Meet the Gurus!
Name -
Klaudia M. Lacka
Length of service -
Almost 2 years
Favourite part of the job -
Multi tasking. I like to keep busy
Highest score in golf -
72! And proud...well maybe not!
Claim to fame -
Back in Poland I was interviewed for a television programme promoting healthy food and food establishments. Back then I was the sandwich guru!
One person you'd like to meet -
Leonardo Dicaprio - I have been in love with him since I was 8
Funniest moment at work -
There are so many, I can't choose
Embarrasing moments -
When colleagues misunderstand my English
A book you'd recommend -
Harry Potter - all of them!
Also everything by Terry Pratchett
Go-to midnight snack -
There is NO snacking after 7pm!
| | |
| --- | --- |
| Name - | Steph Hoblyn |
| Length of service - | 6 years |
| Favourite part of the job - | Making coffees for customers |
| Highest score in golf - | 78 |
| Claim to fame - | N/A |
| One person you'd like to meet - | Gordon Ramsey |
| Funniest moment at work - | Stuffing things in my mouth for a selfie competition |
| Embarrasing moments - | Getting hugs from the manager, Simon |
| A book you'd recommend - | Love struck in London |
| Go-to midnight snack - | Bowl of cereal |
| | |
| --- | --- |
| Name - | Emma Rose Cave |
| Length of service - | "Is it 2 and a half years??? Yes, it's 2 and a half years" |
| Favourite part of the job - | Making doughnuts and serving customers. I enjoy meeting people of all age ranges, customers and employees |
| Claim to fame - | Met Kenzie from Blazin Squad at Butlins |
| One person you'd like to meet - | Sir David Attenborough - He could read me a bedtime story |
| Funniest moment at work - | I accidentally poured an ice cream mix all over myself when trying to fill the whippy machine, in my hair, on my glasses. I was sticky and smelly for the rest of the day |
| Embarrasing moments - | Every other customer asking if I have a bad throat - its just my voice! |
| A book you'd recommend - | A boy called IT. |
| Go-to midnight snack - | Bag of salt and vinegar crisps |
| | |
| --- | --- |
| Name - | Elvie Cotton |
| Length of service - | 18 years |
| Favourite part of the job - | Everything, I love my job! |
| Highest score in golf - | 57 |
| Claim to fame - | Once entertained Heather Mills and Paul McCartney's daughters birthday party. The party made the papers! |
| One person you'd like to meet - | Robbie Williams |
| Funniest moment at work - | Too many to mention! Although falling out of the Kiosk door has to be a highlight. Everyone saw the CCTV! |
| Embarrasing moments - | Being caught in school uniform by the local landlord of the Barley Moo pub. I had been drinking in there for over a year. Needless to say I did not return. |
| A book you'd recommend - | The bible - well someone must have read it! |
| Go-to midnight snack - | Cheese & biscuits accompanied by a G & T |
| | |
| --- | --- |
| Name - | Faye Ashworth |
| Length of service - | 3 and a half years |
| Favourite part of the job - | The 'main event' days i.e. Pirate day, Biker day, Bonfire night... |
| Highest score in golf - | I am so bad, I do not keep score |
| Claim to fame - | I gave flowers to Cherie Blair during a charity event. |
| One person you'd like to meet - | Jimmy Essex - He is in Hollyoaks and is so beautiful |
| Funniest moment at work - | I used too much fake tan before a shift. As it developed throughout the day I was a little darker than I had intended |
| Embarrasing moments - | I took a selfie in the work toilet and put it on social media. A colleague noticed it was taken in the work toilet and shared it with all the staff |
| Go-to midnight snack - | Crisps... any crisps! |
The Crepes Guru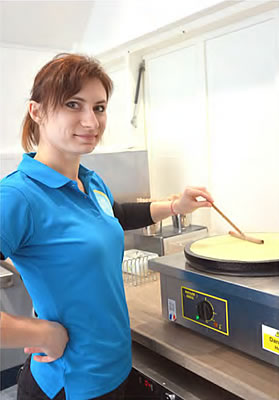 The Coffee Guru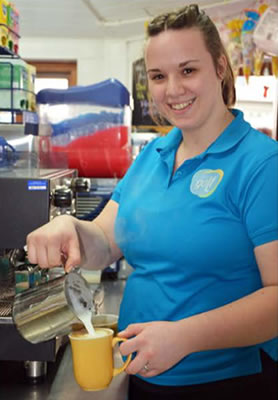 The Doughnuts Guru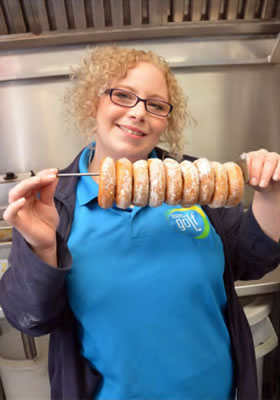 The Ice Cream Guru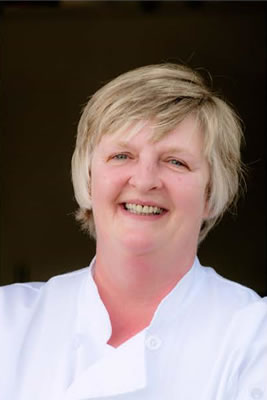 The Whippy Guru